La Maison de Sade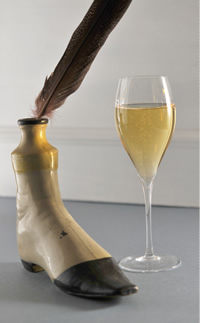 It took time for Sade to emerge from shade and flourish in full daylight. Nearly two hundred years before the whole greatness of his name finally came out into the open, like a fabulous opera resounding with excess and defiance.
After the slow ascent of his works up the path of fame, my wish, in creating "La Maison de Sade", is to revive the epicureanism of the "Divin Marquis", who devoted his life to pleasure.
An aesthete with a fiery temperament, the Marquis demanded no less than perfection in matters of gastronomy. This same demand for perfection is to be found in the "Maison de Sade" products. "La Maison de Sade" will lead you into a universe of art of living and pleasure. A unique experience of festive sipping, stimulating desire. Une expérience unique de dégustation festive qui attise le désir.
Have you ever dreamed of allowing yourself to be taken by surprise ? Ever dreamed of succumbing to mystery and indulgence ? Taste pleasure ! Treat yourself to Sade !
Hugues de Sade